Weddings at Tullie House Museum and Art Gallery always bring back memories
Tullie House museum and Art gallery in Carlisle makes a great venue for weddings and for receptions, with loads of photo opportunities for wedding photographers like me.  I should know because I'm writing this on the eve of my 26th Wedding Anniversary and my wife and I were one of the first couples to have our wedding reception at Tullie House.
A couple of weeks ago I was asked by the wedding co-ordinator at Tullie House if I would like to get involved with a few other local suppliers to take photos at a styled wedding photo session.  I, of course, jumped at the chance, not only to wander around the museum and take photos where I want, but also to meet up and work with local suppliers.
As part of the pandemic restrictions we all had to be COVID safe and this meant that rather than getting any two models to be our wedding couple we needed to get a couple that are actually partners.  We were really lucky to get Sam and Craig Nixon who had in fact got married a few years ago and looked forward to getting dressed back up and pretend it was wedding day again.
When I arrived at 10am in the Library room at Tullie House Sam our female model was already getting her hair styled by Bridal Hair by Adele.  Adele and Sam had decided to style her hair in a messy bun/natural updo bun, slightly textured to give it a natural lift rather than a structured look, with flowy curls to soften the look and she then got her make-up applied by Megan Rose make-up artistry.  Megan created a classic natural bridal make-up look with soft nude tones.
After hair and make-up, Sam's hair was decorated with "Jo" pins designed and made by Jewellery by Red Hedgehog. The pins are made from mixed sized pearls to represent sprigs of foliage and can be used as individual pins or group together to make a statement piece.  Once sparkled up Sam was able to step into a Georgie-Mae bridal gown from the 2021 collection called "Jesy", a chiffon flowy gown with a detailed laced bodice, which was supplied by local wedding boutique Bridal Wishes.
It was at this point that our male model, Sam's husband, Craig arrived in his own suit and sporting a new haircut from RL Hair Studio in Carlisle, quickly followed by a beautiful flower bouquet and matching buttonhole created by Flowers by Frankie 
We set off taking photographs and started in the oldest part of Tullie House, I am always drawn to the beautiful staircase and the amazing artwork all the way up the stairs.
After a quick touch up of makeup we were off to the Border Galleries on the first floor of the museum.  This gallery looks at the history of Carlisle from Prehistoric to modern times.  Carlisle has many links to the railways and once had around three railway stations in the city.  With this in mind we went to the railway coach
From there we went out into the bright sunshine of a beautiful Carlisle day on to the lookout for a view over Carlisle Castle
Back inside and after it was off to the reading room which had been set up for the wedding breakfast.
The flower wall and Chair covers having been provided by Anna-B's Teepees and a beautiful cake having been created by Sara Ruddick Cakes with more flowers crafted by the talented Flowers by Frankie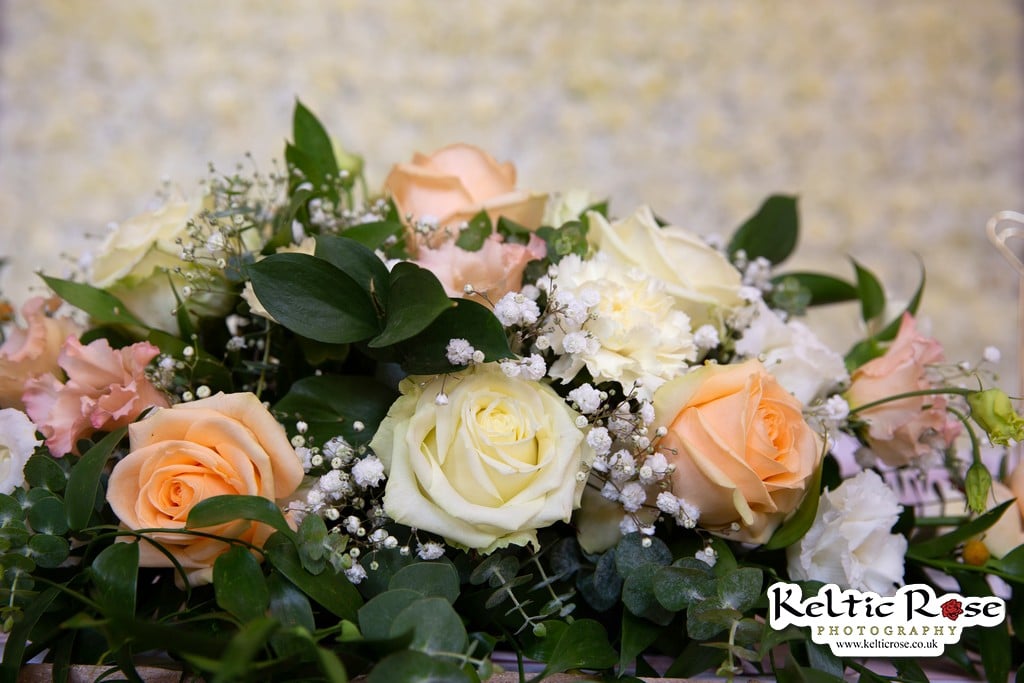 The reading room brings back memories of my own wedding, the doors haven't changed but thankfully the walls of the function room are no longer bright red. (Photo ©James Templeton)
Once outside we went for a wander around the grounds, the day had turned in to a beautiful September sunny day.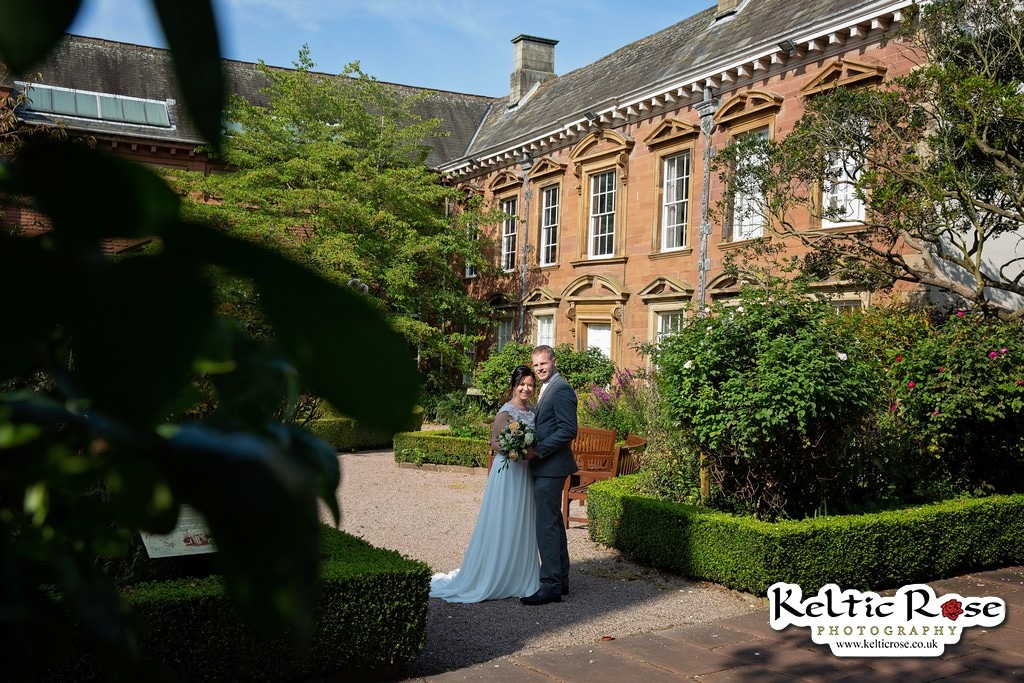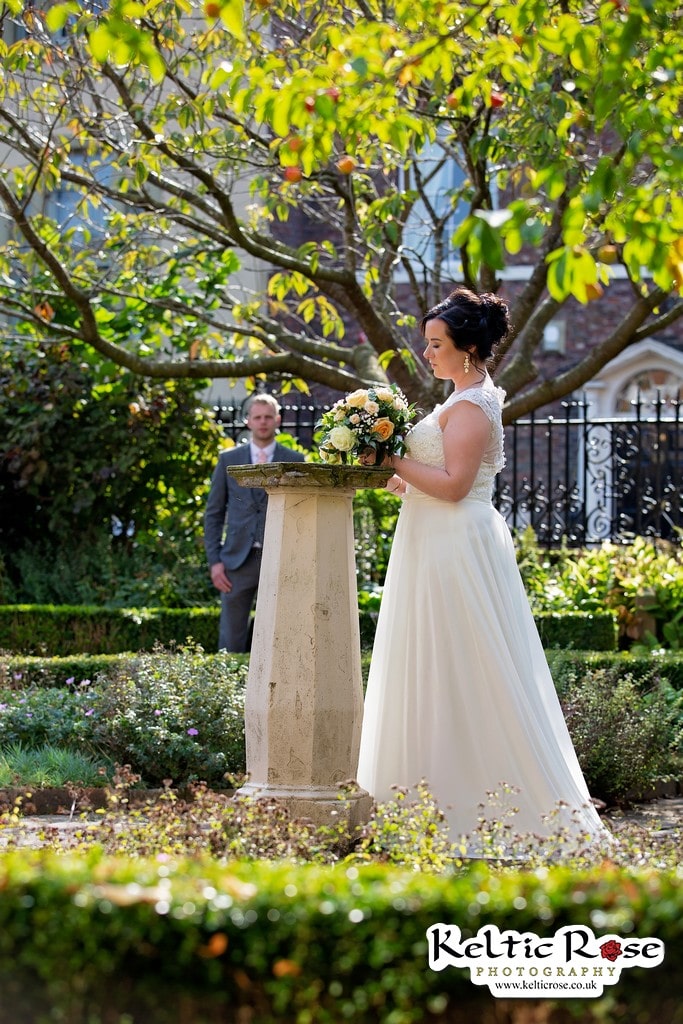 The gardens may have changed but I have always loved photos at the sundial (Photo ©James Templeton)
Having enjoyed some time outside, and a chance to take off our masks and breathe some air, we went back inside to stage some more photographs.
Inside it was into the first of the two smaller room, with their intimate feel.  The meeting room a lovely venue for a smaller number of guests.
The second smaller room "The Library" is also ideal for a wedding with smaller numbers, perhaps even a COVID wedding
By this time the reading room had been changed around to show how it would look for a ceremony
Finally, we came to the end of the day and the evening reception, with the Cosmic Vinyl Experience playing the romantic tunes the couple took to the floor for their first dance in front of L.O.V.E led lights provided by Anna-B's Teepees
If you are looking for a wedding photographer based in Carlisle for weddings around the Lake District, Gretna or South West Scotland then please do get in touch